Reviewing and Assessing Play
"You learn more about a person in an hour of play than in a lifetime of conversation."

(Quote sometimes attributed to Plato, however the original source is unknown.)

Setting aside time for reviewing and assessing children at play is beneficial in many ways. It will tell you much about the children themselves, allow them to self-reflect, as well as informing planning for further play sessions.
What are we assessing?
There is much to observe an learn when a child is playing. We can gather information on the development of their social skills, motor skills, language ability, likes, preferences and interests and much, much more. But what should we be looking out for specifically? The NCCA recommends looking for children's progress in the following areas:
Dispositions - curiosity, concentration, resilience, perseverance
Skills -cutting, writing, problem-solving
Attitudes and Values - respect, care, positive attitudes
Knowledge and Understanding - classifying objects, learning 'rules', understanding new vocabulary
Documentation
Documenting assessment will give you the opportunity to reflect on and use the information you have gathered throughout the year. It can also help to build up 'portfolios' for the children.
Observations
I use observation note templates on a clipboard to record notes while watching the children play. I have found these notes invaluable when it comes to Parent-Teacher Meetings and end-of-year reports. Even one observation a month will give you an insight into how the child grows over the course of the year.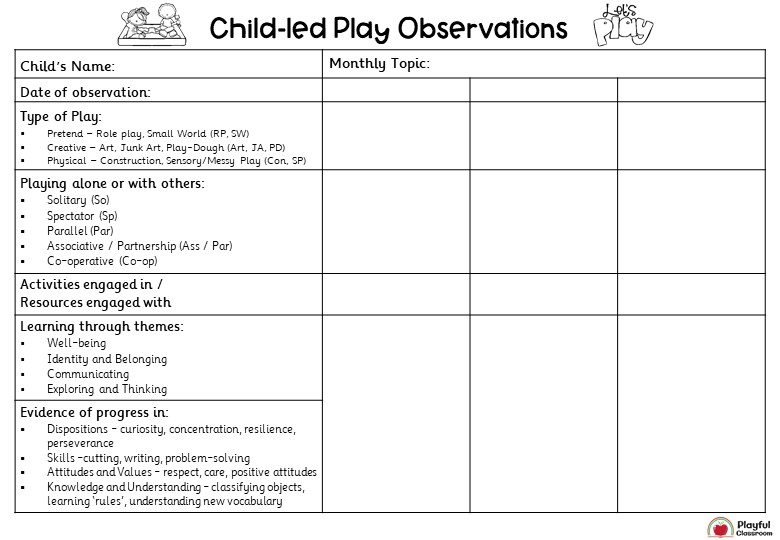 Post-it notes and sticky labels
If you spot a child doing something interesting or noteworthy and want to record it on the spot, without the fuss of a clipboard, post-it notes and sticky labels can be very useful. Write the date and the child's name or initials, and scribble a few words down. After the children go home, you can add these sticky notes to a page or a file for the child to build up a picture of their skills. Check out how Zara from Infant Education does it here.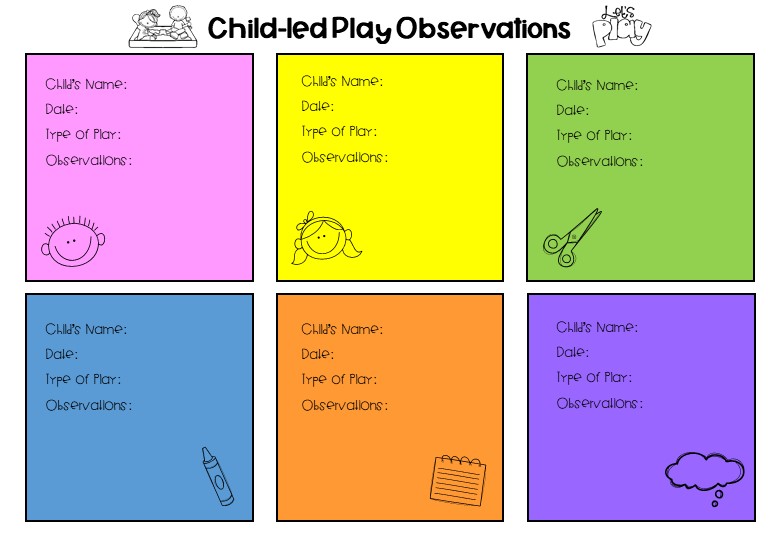 You can find out how to download some templates for FREE at the end of this blogpost.

Photographs
Photographs and videos of the children participating in play is a quick and efficient method for informing your assessment. By taking a few photographs or videos during a busy playtime, you can take the time later on to sit down and take some notes. Digital portfolios can be easily created for children using Class Dojo, Seesaw or other digital platforms. Again, these come in really useful at the end of the year to see the children's progress.
Self-Assessment
It is very beneficial to take time at the end of a play session for review. This can be oral or written/drawn.
Oral Review
A simple way to orally review a play session is with a circle time round. Give the children a sentence starter and pass a 'speaking object' around. As always with young children, teacher modelling is key here. I like to start with some very simple starters, for example, "Today I played with xxx" or "I noticed…", moving on gradually to more complex ones such as "Something that went well today was…" or "Something that I could do better on the next time is…"
Sentence starters can also be used in a 'Think, Pair, Share' format. Children chat about their play session in pairs, and then share what their partner did during the play session.
Check out Clara Fiorentini's Post-Play Q&A here.
Photographs and videos taken during play make a great stimulus for discussion and review. Share them on an Interactive Whiteboard where possible. Children love to see themselves in photos and are keen to share their experiences with their peers. I find that they particularly enjoy sharing photographs of constructions, small world scenarios and junk art creations.

Written Review
Each child in my class has a 'Play Copy'. This can be a copybook with blank pages, or half lined, half blank (Project Copy). Roughly once a week, the children draw and/or write about what they did in their play. It is essential that the classroom is a print-rich environment with high-frequency words and thematic vocabulary on display to assist with this (when children have started formal writing). The teacher can annotate where necessary. The 'Play Copy' makes a lovely keepsake at the end of the year.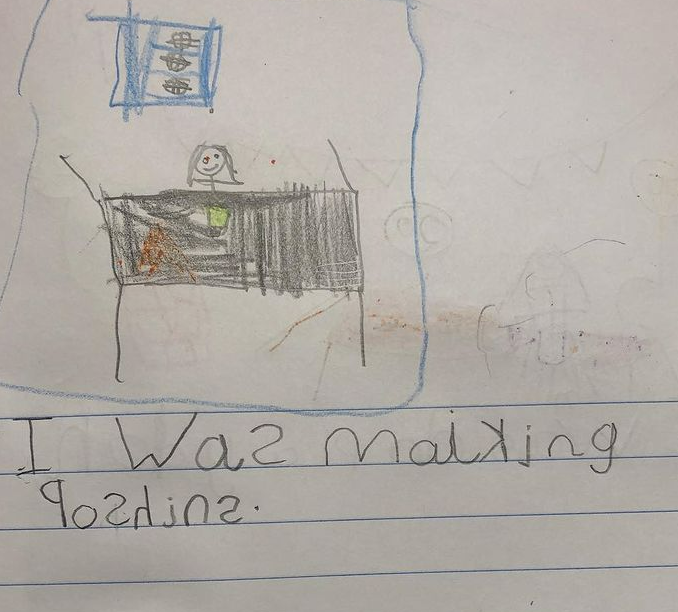 Here are some other articles to read about Play in the classroom:
You can read the official documentation on Assessment for Aistear from the NCCA here. (What is Aistear? Click here!)
Have you tried my theme packs for Play and the Aistear Curriculum? Check them out on Teachers Pay Teachers here.
Looking for an Aistear observation template?
>>> Click here to get the FREE play observation templates. <<<
Looking for more resources for your classroom? Check out my
Amazon Favourites.


Playful Classroom is a participant in the Amazon Services LLC Associates Program, an affiliate advertising program designed to provide a means for sites to earn advertising fees by advertising and linking to Amazon.co.uk.