Ikea is a teacher's playground. I defy you to visit and not purchase something for school. Here's a
list here my favourite Ikea in the classroom purchases; from the cheap (less than €1) to the investment (€70+). Each item listed has been tried by myself in my own classroom!

---
Lack Table
The Lack table is probably my favourite classroom resource from Ikea. It's light yet durable, the perfect height for infant classes, and a total bargain. I use Lack tables in my role-play area, as a writing table, a discovery table, or even to hold a tuff tray. You can pair Lack tables with a variety of seating options, also from Ikea.
Both of these types of stools are stackable, which saves space in the classroom. They are useful to have in your role-play area, for 'messy play' or Art, flexible seating, or just as spares. For older children or adults, try the Marius stool.
Flisat Table
The Flisat table is a recent acquisition of mine but it has been used every day since I got it. At first glance, it looks like an ordinary table, but lift the top and you'll find space for two Trofast boxes. I use these boxes for water, sand or sensory play. When covered, it gets used as our 'yoghurt table' at the back of the classroom so as to avoid yoghurt spillages on the carpet!
Glis Boxes
I use the small Glis boxes for lots of different classroom resources; pencils, crayons, markers, scissors, glue sticks, maths manipulatives and loads more. They are stackable, and come in different colours, which means you can even coordinate them to your class groups. Great value and really sturdy. (3 for €2.50)
The large Glis boxes have sections. I use them for Maths manipulatives, but they would also work well for STEM bins or Art materials.
Mala Paper roll
This roll of plain off-white paper does exactly what it says on the tin. You can get a matching holder, but it's not really necessary. I use the roll for free drawing and writing, construction and play planning, and vertical writing.
Raskog Trolley
I have two of these in my classroom – one for my STEM bins, and one as a portable stationery trolley. A quick search on Pinterest will bring up many more uses!
Mala Apron
I have a set of 6 of these for painting and messy play and they are a God-send. They dry quickly and are machine washable. (I steam clean them in between uses)
Trogen Step Stool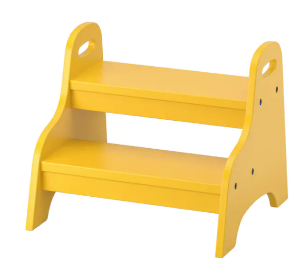 I have this for the children to use in front of my Interactive Whiteboard, as it is not height-adjustable.
Lillabo Train Set
My son was gifted an train set from a friend on his first birthday. He is now almost 13 and the tracks and trains are still going strong. Great quality at a reasonable price, this train set is a great open-ended toy for any junior classroom (or home!).
Duktig Kitchen
This is another toy that has come from my home to my classroom. It's on the go about 10 years now and still in great condition. The accompanying pots, pans and utensils are also very durable.
---
This blog post is sponsored by or affiliated with Ikea. All opinions are my own.
Playful Classroom is a participant in the Amazon Services LLC Associates Program, an affiliate advertising program designed to provide a means for sites to earn advertising fees by advertising and linking to Amazon.co.uk.