2022 - The Year in Review
2022 has been a busy, and interesting year for me. Before I take a little trip down memory lane, I want to take the opportunity to thank you all for your support, and wish you all the very best for 2023.

The year didn't get off to the best start, as I was laid up with Covid for over a month. I was delighted when I finally made it back to school and received a warm welcome from the children. Unfortunately, I now have Covid again, but forewarned is forearmed, and I won't let it beat me this time!
Playful Classroom has evolved and grown a lot since I started my Instagram page in 2018. I reached a huge milestone in June, reaching 20,000 followers. Thank you to each and every one of you who follow and interact with my page, it means so much to me. This year I also launched my website www.playfulclassroom.ie. I had purchased the domain some time before, but it took quite a while to get it up and running! The website includes my blog and online shop; if you haven't had a look yet, please do make a cuppa and have a browse.
My journey into reading research has been unrelenting, but has opened many doors. I was grateful to attend the FELA European Conference on Literacy in July, meetings lots of like-minded people and listen to some remarkable speakers. I look forward to more conferences in 2023 and beyond!
In September, I took on the challenge of teaching 1st Class (ages 6-7). In my career up to this point, I had taught every class from Junior Infants to 5th Class, plus Special Education, except 1st Class, so I was delighted to finally get the opportunity. I brought with me my playful approach to teaching, plus my quest to give every child the best chance of becoming a skilled reader.
By and far the biggest change for me this year was the commencement of a Master of Education. It was slightly unexpected, and a bit of a snap decision, but I have no regrets. The course that I chose is the Masters in Literacy Education at Mary Immaculate College, Limerick, and I wouldn't hesitate to recommend it. The workload is substantial, but I am enjoying hitting the books and everything that I am learning.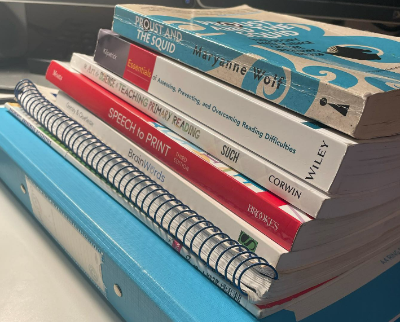 Webinars
2022 was a year of webinars for me! I have hosted a variety of webinars on Literacy, Play, and Infant teaching for thousands of Primary Teachers across the country. Thank you to each and every one of you who tuned in. I also held my first face-to-face seminar, and look forward to more in the near future. I am thankful to Navan, Tralee, and Clare Education Centres for their continued support, and also to Sligo Education Centre for reaching out to me to work with them.
Keep an eye on ecnavan.ie and ecsligo.ie for upcoming webinars and courses.
Collaborations
I have met some truly wonderful educators through Instagram, Facebook and Twitter. Some I have been lucky enough to meet in person, while others are thousands of miles away! I have collaborated with some amazing people this year.
I teamed up with Dr. Jennifer O'Sullivan, Clara Fiorentini, and Dr. Treasa Bowe for a Literacy Symposium for Ukraine in March. We presented on a variety of literacy topics and raised over €4,000 for the Ukraine Crisis Appeal. Again, thank you to all who supported us.
I collaborated with the educational company and dyslexia advocates, Nessy to create some Instructional Phonological Awareness videos to accompany their new programme 'Hairy Reading' for children aged 4-6. You can check out the videos on Youtube.
Nessy later invited me to be on their panel of judges for their International 'Teacher of the Year' Awards. The shortlisted candidates were extremely high calibre and it was not easy to decide! Head to the Nessy blog to see the winners.
In May, I connected with Dr. Kathryn Garforth from the Right to Read Initiative. I joined Dr. Garforth for two video podcasts; the first on the disconnect between phonics instruction and levelled readers, and the second on the evidence-based literacy practices in my classroom. These podcasts are available on YouTube and iTunes. Dr. Garforth has hosted many notable guests on her series, so do check out the others!
Nate Hansford from Pedagogy Non-Grata invited me to his podcast to discuss the highs and lows of Jolly Phonics. Many of you will be familiar with the programme, so may find it interesting! Listen to it on iTunes or Spotify.
In early December, The Irish Times published an article by education journalist and teacher Jennifer Horgan about the teaching of reading. It was called 'The reading wars: What is the best way to teach kids their ABCs?' and includes some quotes from Dr. Jennifer O'Sullivan, Dr. Patrick Burke, and yours truly.

Blog Posts
I published four new blog posts on playfulclassroom.ie in 2022. I would have liked to write more, but it's something that always gets put on the back burner. If you haven't read them yet, you can find them by clicking on the links below.
Sight Words Vs High-Frequency Words
Phonemes and Graphemes (this one includes a HUGE free resource)
Resources
I released two large resources this year that took a substantial amount of time to write. This, coupled with undertaking the Masters in September, means that I didn't get too many other new resources made. I get a lot of requests for resources, so I do appreciate your patience! I usually have several on the go at any given time, and getting them over the line to be posted online often takes longer than it should!
Here's a sample of some of the new resources from this year.
Phonemes and Graphemes (FREE)
Irish Resources for 1st & 2nd Class

If you have gotten this far, I am impressed! Thank you for reading. May 2023 bring you peace, prosperity and playfulness.

Dee x